Lovely Save The Date (00:35)
Request your friends and family to save the date of your wedding and make them feel the warmth and thoughtfulness that this Lovely video invitation brings.
Youthful and Sweet. HD Video in 48 hours. No photos needed.
Chat with us



"When you feel happy in Someone's happiness and discover Yourself in their Heart…"
Love is in the air and there's magic all around.
So don't just announce your wedding, spread the joy and magic that now surrounds you.
Customise this colourful and pleasing video invitation and share it with your guests to intoxicate them with the same thrill and delight that envelopes your heart.
It's as simple as it gets:
No photos required. Simply add text and you're done.
Works for Engagements, Receptions and Anniversaries too.
Customise for any function
Simple yet engrossing animation
Melodic background music
Short and Crisp
Send in your details and we'll customise this Lovely-Jubbly video to make it truly yours.
Suggest your own Quotes
Use a different background Music. (we strongly recommend the default piano-guitar one as it is perfectly synchronised and commercially licensed)
Text colour and styles can be customised too
The Swaying Hearts and the Romantic Backgrounds can be edited on Special Request.
Get your Invitation Customised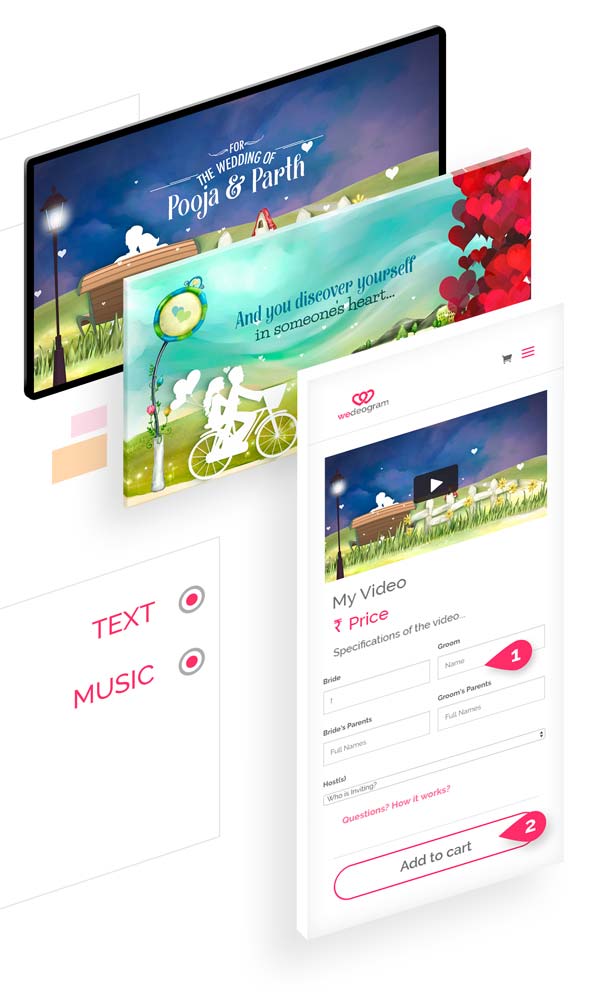 Click the
START
button to submit your customisation details.
Simply add your Names
and Date of the wedding
Make Payment and Done!
If you wish to include more details, simply write them in the notes or shoot us an email. You can also chat with us anytime by clicking the icon at the bottom of your screen.
You'll receive your Personalised Video Invitation in your email* within a few hours.
Light Hearted
Simple
Effective
*please mention correct phone numbers and email ids while ordering.
+91 9504 404 404
Call | WhatsApp