Sweet Save The Date (00:45)
Add your intimate moments to this video and create a sweet and enchanting invitation requesting your friends to save the date for your upcoming wedding celebration. Customise it with your photos, text, colour and preferred music to make it unique.
Sweet. HD Video. 7 Photos.
Chat with us



"There is only one happiness in life,
To love and be loved"
The bright and joyful video can be customised for any function.
Use it simply as a short save-the-date video or include all the functions of your wedding.
Be it engagement, tilak or poojan, the video can accomodate all. The duration of the video can also be altered to suit your specific requirements.
Make the video invitation  unique by adding your personal touch to it. 
Customisation options include:
Add upto 7 photos
Use a different background music
Suggest a different background colour (HEX codes)
Text and Fonts can be replaced
Customising Sweet Save The Date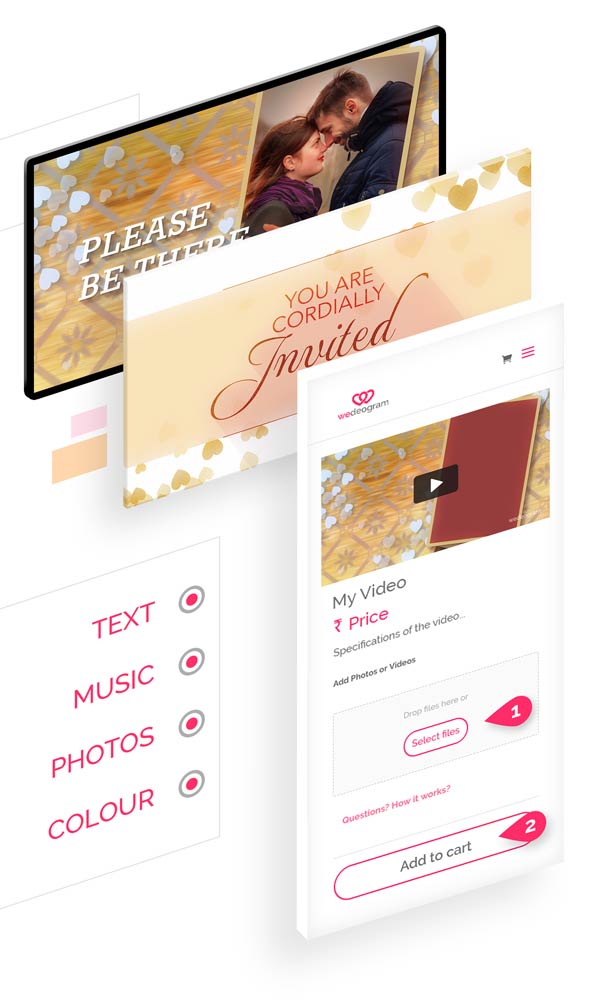 The video invitation is unique and beautiful as it is but you can order customisation for almost any element in it.
Once you choose to BUY or TRY, click START to enter the NAMES, DATE and PLACE.
You can share your own music and video messages to be included in the video.
You can also request an entirely different colour for the theme to match your wedding cards or social stationery.
We will contact you after receiving your order and the personalised video will be created and sent to you in email.
Sweet Wedding Invitation
or
Sweet Save The Date