Softly Save The Date (00:40)
Get your friends and family excited and request them softly to save the dates for your nuptial festivities with this clean and refreshing invitation video which will surely leave them all mesmerized and hungry for your formal invitation.
This video theme with soft music may be personalised not just as a Wedding Invitation but for Engagement and Parties too.
Sophisticated Template. HD. 3 photos
Chat with us



"You're the Reason behind everything I do,
I think I wanna Marry You"
When you cherish every single moment- the good, the bad, the beautiful, the ugly and thank God through it all… You know it's time to marry the one who's the reason behind it.
A contemporary and minimalistic theme of this unique wedding invitation video makes it extremely popular among young couples throughout the world.
Just add your photos and a hummable music to make your invitation exclusive.
Add your Charisma to the Video
Personalise this soft and stylish invitation for your wedding just the way you want
Use upto 3 photos
Suggest soft and lilting music
Text intros can be replaced
Use it for any function
Get this Soft Invitation Video Personalised Easily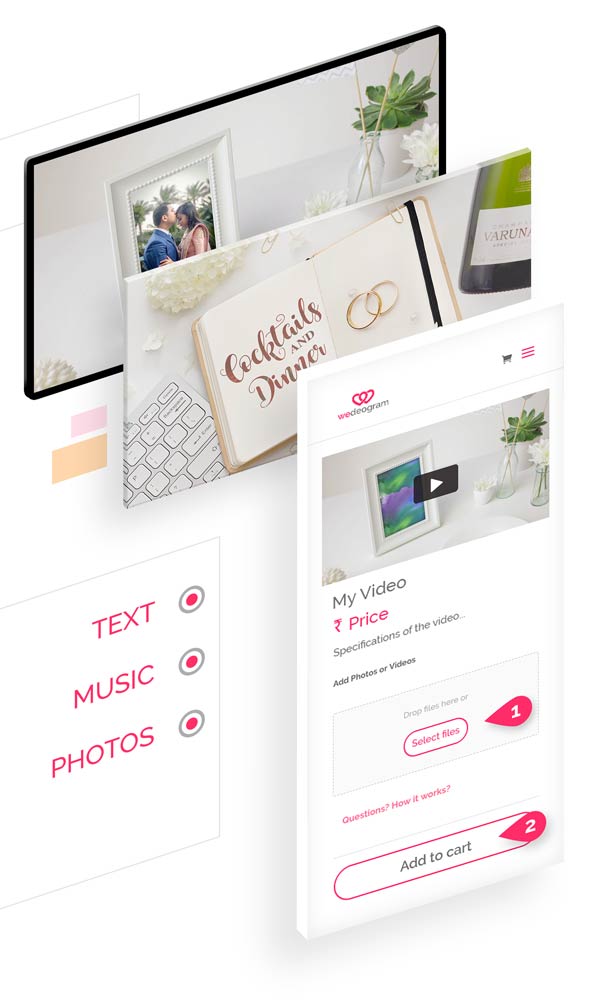 Customising the video requires minimum effort from you.
Click the START NOW button (above) to add text and photos.
Fill up a simple Form with your wedding details which include:
Na

mes

Date, Time and Venue for the Wedding.

Photos

or videos
Add to Cart, make payment and Done.
Your personalised video will be created and delivered to you within a few hours.
For any special requests such as change of Duration or Scenes, please get in touch with us before placing the order.
We start working on your video as soon as we receive your photos and complete text details.
We may call you if something's missing. So please mention correct phone numbers and email ids while ordering.
Engagement,
Dinners,
Parties…
Use it for any function or event.