Find out how Wedeogram works and how effortlessly you can create Video Invitations and Greetings online.
Thousands of Indian Couples have made wedeogram their go-to place for Hip Animations and Rad Videos.
Add Photos, Text and Music
Make Payment or Try First*
Get a Demo Video in 24 hrs
Final HD Video (with all edits)
Each video, be it a traditional invite or a crafty explainer video, is Manually Edited and Customised with love for you.
To Make a Video, simply upload your favourite photos and fill in some text and tell us what the occasion or memory is all about and relax!
We will get in touch to create your awesome memory and deliver it right in your inbox.
You can download your video and share wherever you want to and any number of times you want! We don't put any silly restrictions on your videos. As a matter of fact, your videos (both SD and HD sizes) are optimised for sharing on social media.
Easily download and share it on Facebook, whatsApp, your website or any other platform you can think of!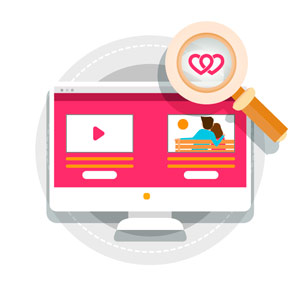 Browse and select a video template. Click 'START NOW' button below the video or simply click "MAKE MINE" at the end of each video to add customisation.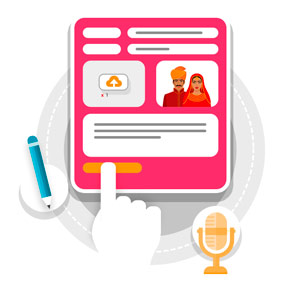 Add your details to personalise. You can Add Photos, Text, Audio/Video Messages and more. You may also Share the Music you want in the background of your Video.
Choose either to BOOK videos instantly or choose to TRY our service FIRST.
We start creating your video once we get your full details.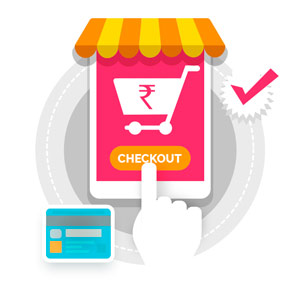 Make Payment online (credit card, mobile wallet, bank transfer etc.) through our safe and trusted partners such as PayPal (USD & INR) and PayU (INR)
Simply Get in Touch if you wish to Book Offline.
(Note if you choose to TRY FIRST, select PAY LATER at Checkout. Pay after watching the Demo)
Booking in advance gets you a cool 10% Discount along with Priority Support, Revisions, your choice of Music and no Watermarks.
*see comparison chart below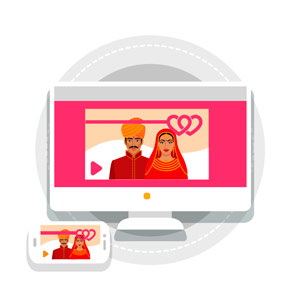 Get a Draft SD Video within 24 hours (4 days if chosen TRY FIRST)
Watch this personalised video carefully and report for any errors or changes in text, photos etc. We will also share the screenshots and clips of the revised elements in the video.
(No revisions if chosen TRY FIRST).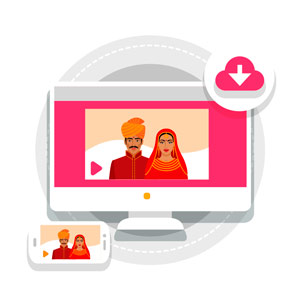 We'll create your Final Video once you're fully satisfied and the download links for SD and HD videos will be sent to you in email. The SD video will also be shared through WhatsApp.
Template vs Custom Videos
To better understand how things work, let us first look at the kind of videos available online at present. Regardless of the category any video is placed into, there are essentially only 2 kinds of videos:
These are readily available for personalisation online at wedeogram.
Professional Motion Designers, C.G. Artists and Film Makers put in years of work to meticulously craft videos in popular categories such as Promos, Weddings etc.
Simply upload your photos, video clips and text and get the personalised video delivered to you within a few hours.
Fast Turnaround Times
Outstanding Support
Easy Customisations
Minimum Effort
Zero Learning Curve
are just some of the key benefits of using template based videos.
It's Simple and What You See Is What You Get.
Browse these beautifully crafted videos online and order them straightaway.
What if you don't want anything that's pre-made? A video totally unique and not available elsewhere.
A video that you can script yourself, act in and one that beautifully showcases your amazing journey !
Such a video is made just for you, based on your story, your people, rhythm and pace.
It is tailor made just for you and is One of a Kind.
Your imagination is the only limit with such a Custom Video.
Detailed Analysis
Pro Animations
Licenced Music and SFX
24×7 Support
Your Branding
are some of the key features of custom videos.
Simply get in touch with us here to discuss your Brand or Event.
It was a very nice experience and we are so impressed with the service provided by you and your team. You added to the wedding bells and celebration.
Everybody just loved the video. It was phrasing our life's story.
Video was created as per our need and also edited later on as per our requirement. Many thanks to u and the entire wedeogram team.
What is a DEMO Video?
Think of it as a simple name given to the rough-cut of your personalised video.
A Demo Video (or Draft Video), complete and customised in all aspects, is generated for reviewing purpose only.
You can watch and share your video online, get inputs from friends or co-workers without any restrictions.
Make note of all the changes or corrections (if any) that you want in the video and share it with us. We will then re-edit the video and share the revised version with you. Once you are satisfied, we will proceed to finalise the video and generate the HD version, optimised for web.
The only limitation of a Demo video is that it will be prominently watermarked. Such watermark strip is centred and runs throughout the duration of the demo video. The watermarking gets removed once you make the full payment.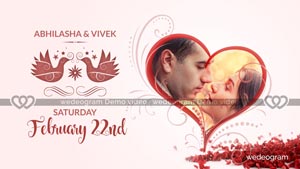 Demo Video Appearance
With Prominent Watermark Strip
What all is customisable in a Video?
Well, depending on the video, almost everything!
All videos are certainly customised with your photos and text, but for any changes in colours, fonts, pace, voice overs etc. please get in touch with us prior to placing your order.
You may also suggest your choice of music to be used in the background instead of the one playing in the sample video.
Can I ask for changes in the Video any number of times?
Ok, let's be reasonable here.
Once you upload your content (like photos, music, names etc.) for customisation, we then put our magic into it. Yes, we retouch your photos, synchronise the visuals with your favourite music, beautify your video clips and enhance your audio messages. We are not robots but real people like you who work passionately to create smiles and likes (hugs and kisses too).
This is what sets us apart and this is what makes your video so beautiful and special.
So please don't make requests for changes just for fun-sakes.
Note,
You may request to change the Photos in the video Twice for free.
You may request to change/alter the Text (names, places, dates etc.) in your video Twice for free.
You may request to change the background Music in your video only Once.
So please make sure to upload your best photos, thoroughly checked text details and a sound that really moves your soul.
What if I don't like the Demo Video and don't wish to proceed?
Cool! It should certainly break our heart, but not your bank! If for any reason you don't wish to buy the video after watching the demo version, you can easily Cancel the order Anytime.
We don't offer refunds but we will convert your paid amount into a voucher which you can use to shop on our website in future. Such vouchers are transferable too.
However no cancellation will be made if the final video has been delivered to you.
What if I need to make some changes after the final video is delivered? (such as last minute change of dates or place)?
Cool again! Send in the details (call, email or whatsApp us) and we'll gladly do it Once for free, that too on priority!.
But this shouldn't diminish the importance of a DEMO Video or Revisions.
To reiterate, please review and examine the demo video very carefully before finalising the video.
We are very happy with the prompt service and care in developing our video. Everyone who saw the video appreciated the work involved. Thanks wedeogram.
Thank you so much for all the help.
Key Differences in Booking upfront or Trying for Free
10% Instant Discount

No Centre Watermark

End Credits Removed

Demo Video within 24 hours

Final Video in next 24 hours

Priority Support included

2 Revisions included

SD and HD Videos included

Your Choice of Music included
No Discounts

Centre Watermark (removal on Payment)

WEDEOGRAM End Credits

Draft Video within 4 days

Final Video after Payment

Chat support

1 Revision after Payment

SD Video

Default Background Music
Note: [ wedeogram ] watermark at bottom right corner of the video is not removable for template videos.
With more than 70% of all internet traffic being driven by videos…
It's easier than ever to create One. And almost all of those videos provide either Information or Entertainment. If you're here looking for some funny baby or cat videos, we suggest you look somewhere else!
If you're looking to share your emotions with the one you truly love;
If you want to share your story with the souls you care about;
If you want to make announcements that drives action and sales…
Simply put a part of your soul into it.
Send a Video that is not just Personalised for you but the one that is a Personification of your true Character and Spirit.
Your Hard work and dedication are very much appreciated. Thank you for all that you did. Everyone loved the video invite.
Thank you sooo much Shweta