Celebration of love wedding invite (01:40)
Let Love light up the sky to announce the celebration of your fairy tale wedding with this profoundly romantic video invitation.
Personalise this Beautiful Lantern Themed video with photos, the motifs from your paper invites and the background music of your choice.
Garden Theme. HD video. 7 photos/video-clips
WhatsApp chat


"A wedding is a celebration of Love.
Only Love. No ego. No possessiveness"
Truly the most alluring wedding invitation video of all.
The illuminated lanterns, being the harbinger of good luck and prosperity, juxtaposed with your most cherished moments make this video invitation an all time classic. The modern and elegant theme of the video makes it ideal for any function or event. Use it for wedding, reception or engagement. It fits perfectly.
It can be customised to include the elements of your paper invites (if any). The colour, motifs and fonts of your paper cards can be used in the video too with no extra cost.
The wedding monograms or logos can be incorporated as well. (please get in touch)
Order this Personalised video with your choice of background music, and elements from your paper cards (if any).
Ample scope for customisation-
Use upto 7 Pictures or video clips.
Suggest a Background music that you think would perfectly gel with this enchanting theme.
Use unique Motifs and Colour for hanging cards.
Customising this Unique template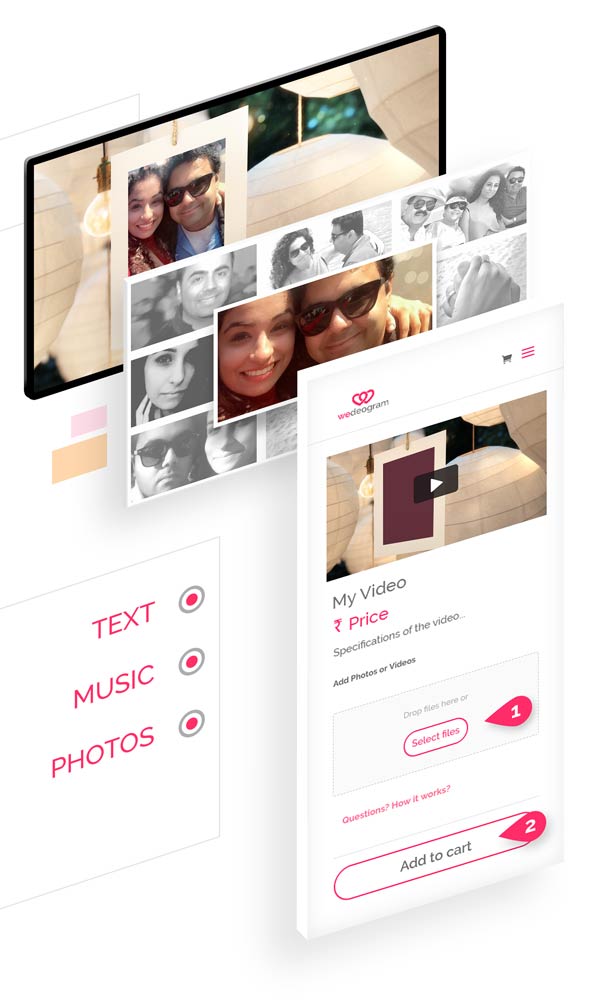 Click START NOW to add details.
You can submit the names, day, time, venue of the Wedding along with your photos or video clips via a simple online form.
The Customisation Form for this video is divided into 3 segments for ease of use-
Na

mes

of Bride and Groom and Parents.
Date, Time and Venue for the Wedding.

Photos

or videos for personalisation.
In case you face any difficulties, simply chat with us anytime.
This video can be customised for more than one function easily. The duration is adjustable too, so we suggest you get in touch with us while placing order.
Wedding,
Reception,
Ring Ceremony,
With or Without Photos…
The duration of the default video is around 100 seconds and can be easily shared on whatsApp.
You will receive your video in both SD as well as HD, optimised to play on any device.
Don't forget to order matching digital invites with this video which serve as a thoughtful follow-up and reminder.
Google maps are integrated with such image based wedding invitations making life easier for your guests.