Traditional Wedding Invite (01:40)
A Luxurious & Traditional wedding invitation video. With floral patterns and fluid animation this template is a true Indian classic.
Customise it with photos, text, your choice of music and backgrounds.
Soulful HD video. 7 photos & video clips
Chat with us



"Srirasthu Shubamasthu Avighnamasthu"
Traditional yet modern design, Fluid animation, Organic elements, Colourful backgrounds and Perfectly synchronised music will make this video invitation an instant hit with your family and guests.
Apart from accomodating more wedding functions you can request different background images and music to make this video more fascinating.
This formal video will look even better if used with your pre-wedding, professionally shot, photos and video clips.
We can also animate your wedding monograms on request and use them in the video.
Make the Video Grander and Rich
Beautiful backgrounds and Incredible animations make this video the quintessential wedding invitation.
Personalise it with your self-recorded video message and religious motifs to make it supreme.
Customisations options for the video:
Use upto 5 of your Photos.
Suggest a different Background Music
Replace Background Images
Add your wedding logos monograms
Add a video or audio Message
Ordering your Traditional Wedding Video Invite…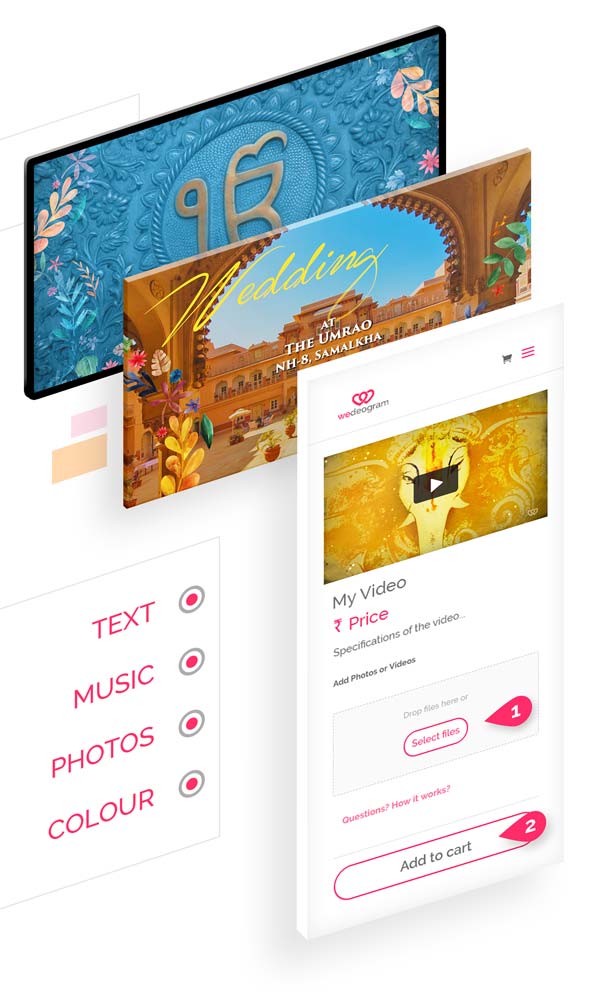 Just send us your Wedding Details such as Names and Venue.
Upload your Photos and place your order.
We will create your unique video, get it reviewed from you and then send it in your inbox.
Simply fill out a 3 part Form (above) to add customisations:
Click

Start

Add

Na

mes

of the Bride, Groom and Parents.
Add the Date, Time and Venue for the Wedding.

Upload Photos

or videos for personalisation.
For adding more customisations simply follow the instructions in the process or contact us anytime.
Remember, no changes in backgrounds, music and duration will be made if you've chosen TRY FIRST. The video will be customised with your text and photos only.
This video is unique as it offers maximum variations.
The duration of the video will also be affected by your customisation choices.
We suggest you get in touch with us while placing order.
Please don't hesitate to get in touch with us to clarify any doubts.
"Bride & Groom…"
"Vakratunda Mahakaya…"
"Ek Onkar…"
Customise the Intro with any text.