Dreamy Wedding Invite (01:05)
Dreamy wedding invitation video has love and romance written all over it.
The Paper texture, Watercolour, Music, your Photos and every other Dreamy element in this fairy tale video alludes to just one thing- True Love.
Love Story HD Video Template. Customise with upto 10 Photos.
Chat?



"When you realise You want to Spend the rest of your life with Somebody,
You want the rest of your life to Start as soon as possible"
Announce the beginning of your Happily Ever After with this Dreamy and Soulful wedding invitation video showcasing your most precious moments together.
The soft and tender elements in the video will add glamour and mystique to your love story keeping it thoughtful yet romantic
The milky hues coupled with fluid motion makes this engaging video truly divine and dreamy.
Tell your unique "Once Upon A Time…" story and cherish forever. Keep revisiting it to keep the passion burning.
Your personal touch will set the mood
We will Personalise the video with your favourite music, photos and text.
Customisation options included in this Dreamy and Tender template
Use upto 10 Photos or video clips.
Suggest a background Music that you think would enhance the appeal of this dreamy theme.
Suggest Text that creatively tells your unique love story.
Changes in Colour on request. ( Kindly get in touch )
10 photos
Add Informal videos for WOW
Book your Passionate Video invitation Online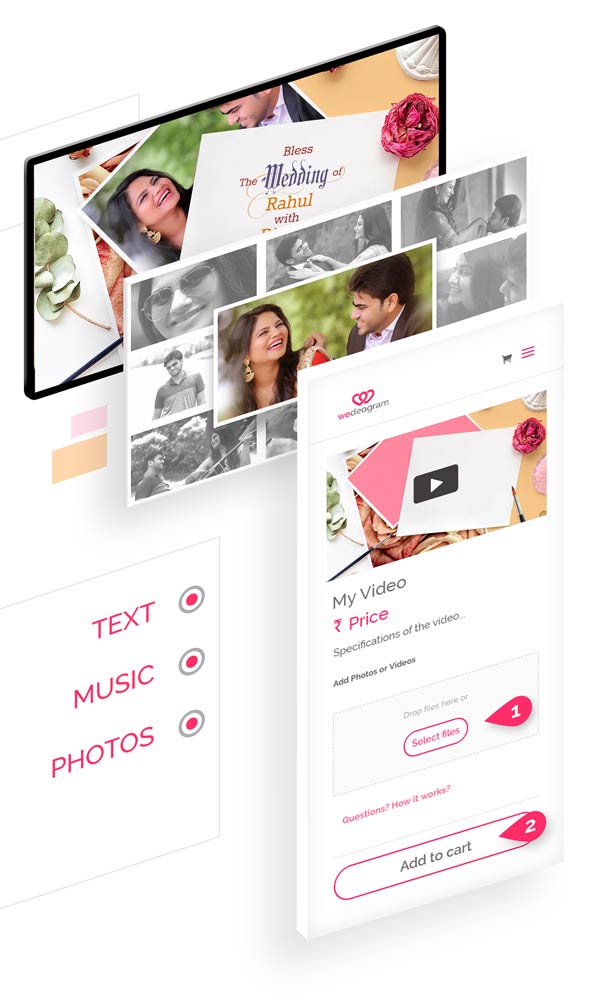 Enter all your custom details after clicking the START button located below the Video. Follow the instructions to add customisations.
Submit your Details in 3 steps.
Add

Na

mes

of Bride, Groom and Parents or Invitees.
Add the Date, Time and Venue of the Wedding.

Upload Photos

or videos online or email us later
Add the Video to your Cart and then Checkout.
Your video will be customised manually by editors and designers at wedeogram.
We take great care to synchronise visuals with the music so the duration may vary depending on the choice of background tune or song.
The theme of the video, being Fluid and Romantic, looks even better with Candid and Personal photos.
"Once Upon a Time…
I became yours and you became mine…"
Tell the story in your own words. It's your Love Story