Fragrant Save The Date (00:45)
Announce the beginning of your HAPPILY-EVER-AFTER with this inspiring rose-themed wedding invitation and spread the fragrance of love all around. The uplifting-music and red-petals coupled with your favourite-photos will make this save-the-date video invitation a special treat for your guests.
Romantic. HD Video in 48 hours. 3 Photos
Chat with us



"When you find that Someone Special who not only loves you but is also your Friend,
Just hold onto that hand till the very End"
Your search for a wedding invitation that's simple yet sophisticated, classy yet romantic, with no bells and whistles ends right here.
The unique thing about Fragrant Video Invitation is that it truthfuly and simply does what it promises to do and more-
Simple and Elegant Template
Youthful Elements and Colours
Minimal use of Photos
Catchy Background Music
Succinct and To the Point
Make this Extraordinary Video Incomparable
Roses, Petals, Hearts and some exciting animation makes this video already one of its kind. Just add a dash of your personality to it and it's a masterpiece.
Simple customisation options include:
Adding upto 3 of your most memorable photos
Using your favourite music
Replaceable Text intros
Customisable Text colour and styles
It's Easy to Order Fragrant Save The Date Video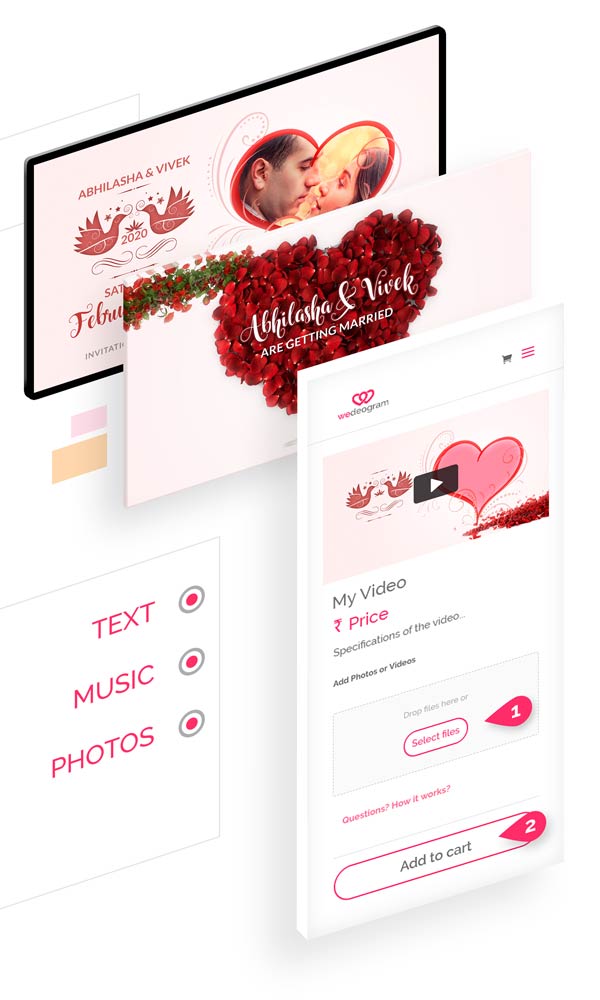 Upload the photos
Type in the text
And Place your order.
Your Personalised Video is emailed to you within a few hours.
The Customisation Entry Form listed above is self explanatory and is as simple as it gets.
In case you face any difficulties don't hesitate to get in touch with us anytime. You can place your order over the phone as well.
The duration of this HD video invitation being approximately 45 seconds and optimised to play on any modern mobile device, makes it perfect for sharing over the internet.
Wedding Invitation
or
Save The Date
Send this Beautiful Invitation the way you like!