Kalamkari Wedding Invitation Video
Designer wedding invitation video with a modern take on The Tree of Life created in Kalamkari.
Hand illustrated elements, including animated florals & peacocks, carry forward the traditional theme of the marriage e-invite.
This e-card can be customised with or without photos, with your favourite music and comes optimised for sharing on WhatsApp & Facebook.
Traditional Indian Theme.
Chat with us



"Mangalam Bhagwan Vishnuh, Mangalam Garunadhwajah
Mangalam Pundari Kakshah, Mangalaya Tano Hari"
As traditional as it gets…
Kalamkari is an integral part of Indian art. This e-invite is inspired from the same and follows the hand painted style of patta-chitra depicting scenes from Indian mythology.
This marriage theme video begins with the freehand pen drawing animation of the tree of life on fabric symbolising wisdom, immortality and fertility. With chanting, the sacred tree eventually turns into gold Kalpavruksham, granting every wish.
The symbolism in the video is not just limited to the tree of life.
Every element including florals, birds,  peacocks, caricatures, jharokhas and background graphics allude to the divine unison of two beings.
Perfect Fusion of Music and Art
The spiritual background music is based on the most auspicious wedding mantras.
Meticulously crafted animation is both dazzling as well as soothing to the eyes which will be well appreciated by all the members of the family.
The fonts and text are kept simple and easily readable with good colour contrast. You can personalise them to your taste.
The background music and colours can be customised too.
You can create the video with your wedding logos and monograms instead of the religious symbols in the video intros (see Ganesha in the sample video). We will animate them as well. 
Customisations options for the video:
Add more Functions
Suggest a different Background Music
Replace Background Images
Add your Wedding Logos/Monograms
Add Photos, Videos or Audio Messages
Creating your Wedding Invitation Video for Whatsapp-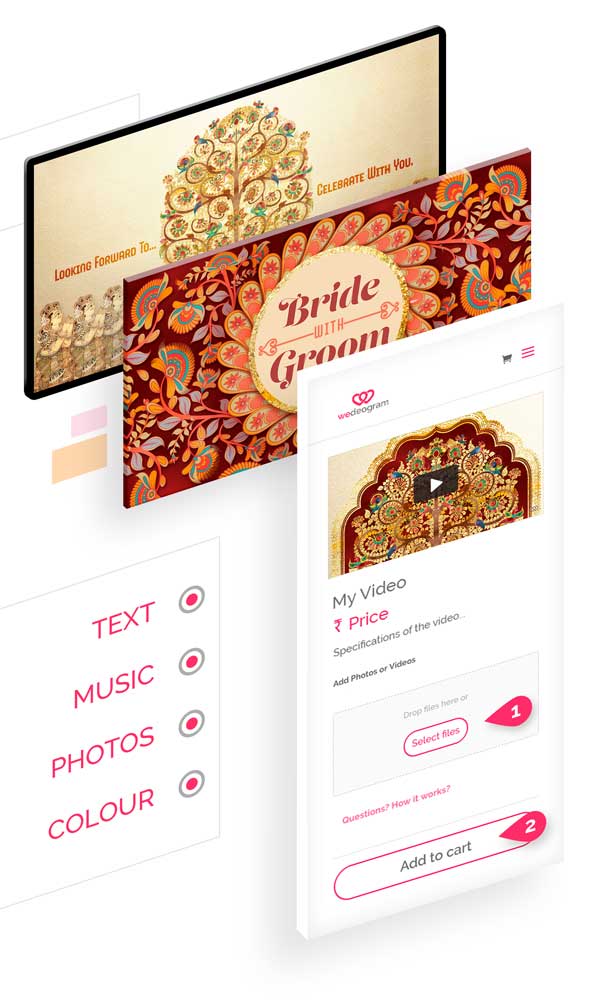 To make this Kalamkari Theme Digital Wedding Card simply submit your Details such as Names of Bride, Groom, Parents with Dates and Venue.
Place your order and make an advance part-payment
We will create your unique video, get it reviewed from you and then send it in your inbox.
For adding more customisations simply follow the instructions in the Form or contact us anytime.
You can include your photos in the video without paying anything extra. Just upload your photos while ordering or simply chat with us online to clarify any doubts.
Please don't hesitate to get in touch with us to clarify any doubts. We'd love to hear your ideas and suggestions.
The duration of the e-invite can be altered to accommodate as many functions, such as:
Myra, Mehndi, Telbaan,
Ring Ceremony,
Sagan, Reception etc.
The first draft of your marriage invitation video will be shared with you within 24 hrs of placing a confirmed order.
This is How your Wedding Invitation Video Maker Works-