Precious Wedding Invitation (01:20)
Customisable Grand & Royal Wedding Invitation Video. Beautiful Liquid Gold Animation combined with Intricate Jaali work makes it truly Precious.
Use for Wedding, Sagan, Reception, Mehendi & more.
Sophisticated Theme. Personalise with or without Photos
Chat ›



"Love is not finding someone to live with,
It's finding someone you can't live without"
Easily the Prettiest Wedding Invitation Video available for the most Precious Day of your life.
The inspiration for this invitation video came from ancient embroidery and cutwork which transforms into laser cut wedding card jacket. The video theme blends the traditional jaali pattern with modern and elegant floral designs.
Lavish use of gold on muted cream tone makes this video invitation a feast for the eyes whereas romantic piano music in the background adds emotion and soul to it.
Personalise this marriage invitation video with names, date and venue details. You may also submit monograms just as you would on a wedding card.
Feel free to contact us for more customisation options such as including your photos, adding more functions in the video or using it only for one function other than wedding.
Your touch will make it Precious
Just like all other videos we can personalise this one with your favourite background music too.
This Royal video template can be customised by:
Adding as many Wedding Functions
Using it for Sagan, Mehendi, Reception, Tilak etc. or only for 1 event
Adding or removing the Text Intros & Outros
Font colour and styles
Adding Photos (the default is none)
Easily Book Precious Wedding Invitation Video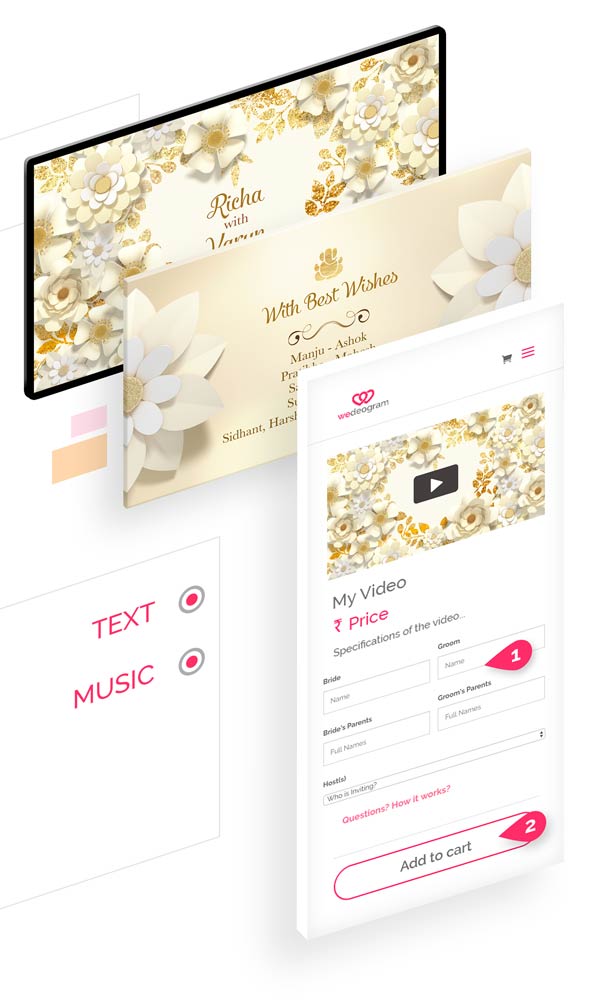 The Customisation process is as simple as it gets.
Once you click the START button, you can submit the names, date, time, venue of all the Wedding events in a form listed above.
The Customisation Form for this video is self explanatory.
Simple options will be presented, such as
Adding

Na

mes

of Bride, Groom, Parents and all the beautiful people in your life who're making the wedding special.
Date, Time and Venue for the Wedding. You can add more events easily.

Uploading Photos

or videos for personalisation. This video already looks great with no photos at all, but you can always add a couple of photos to make it supreme.
In case you face any difficulties, please don't hesitate to get in touch with us.
Add to Cart. Make Payment. Done.
We will create your personalised precious video and get it reviewed from you. Once you're satisfied, we will generate the Final optimised HD video and deliver.
This unique video is both simple as well as sophisticated at the same time. You may suggest your own song, verse or story to be included in the video.
Vakratund Mahakaya…
In the name of Allah…
Lakh Khushiyan…
Use your own text and sacred motifs in the video.