Eternal Wedding Invitation (01:15)
Seek Eternal happiness from Lord Ganesha and give an auspicious start to your Wedding Celebrations with this Divine Video Invitation. "Shree Vakratunda Mahakaya" Mantra chants in the video will not only sanctify your 7 Wedding Promises but will also be cherished by your guests forever.
Sacred HD Video Template. Personalise with 10 Photos
Chat ›



"Vakratunda Mahakaya Surya Koti Samaprabha
Nirvighnam Kurume Deva Sarva Karyeshu Sarvada"
Since Vedic times the very first thing in a Hindu wedding is to offer prayers to "The God Of Beginnings", the remover of all obstacles- Lord Ganesha.
Beginning with the 7 promises, as mentioned in the Vedas, this video invitation is a celebration of those age old rituals and practices in a contemporary setting.
All the elements in the video including roses, radiant candles and figurines symbolising prosperity and love, will make this video invitation a treasure for your family and friends.
Send in your details and we'll  Personalise the video with your favourite music, text and photos to make this spiritual Invitation truly magnificent.
Use upto 10 Photos (7 of which you think will complement the 7 vows)
Use your favourite background Music (we suggest the default)
Replace or Remove the 7 Promises (can use your own creative versions or other text)
Font Colour and Styles can be customised too (open source fonts)
Although your photos in black & white will perfectly complement the ivory idol of Lord Ganapati in this spiritual video you can still request to display them in colour.
How to Get Eternal Wedding Video Invite?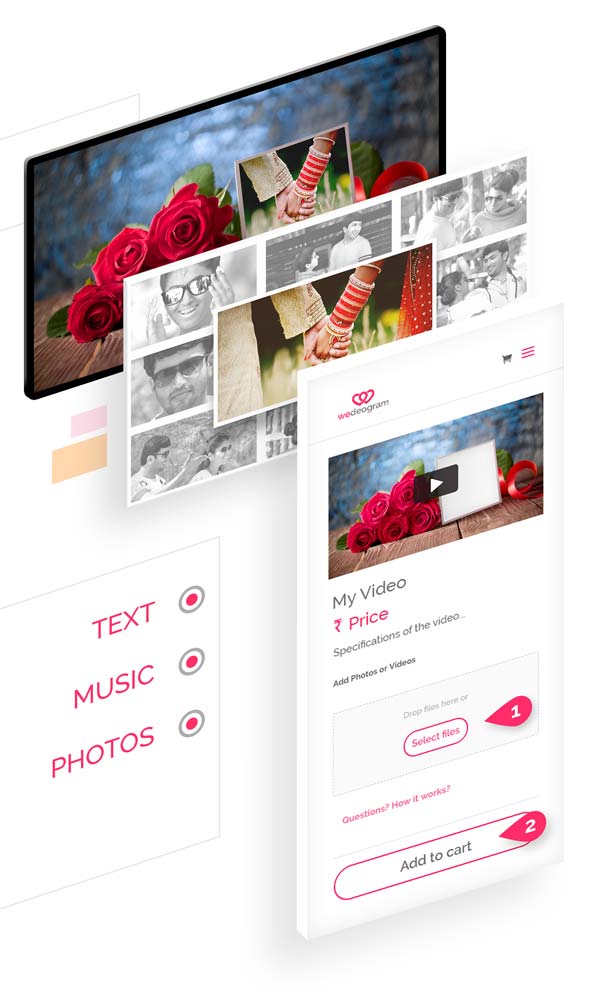 Simply fill out a form with your Wedding Details such as Names and Place. Upload your Photos and place your order.
We will create your personalised video, get it reviewed from you and then deliver it in your inbox. It's that simple!
3 simple steps to add customisations:
Add

Na

mes

of Bride and Groom and Family.
Add the Date, Time and Venue for the Wedding.

Upload Photos

or videos for personalisation.
We start working on your video as soon as we receive your photos and complete text details. We may call you if anything's missing.
We will deliver your personalised video within 48 hours in your inbox.
So please mention correct phone numbers and email ids while ordering.
"Om Sakhi Jaradastayahga"
   "Attramshe Sakshino Vadet Pade"
You can use your own personal versions of the Wedding Vows.
Get creative and share your genius with us.