Elegant Wedding Invitation (01:15)
Easily Personalise and send this modern and elegant wedding invitation video online. The interplay between petals and your photos along with cheery synchronised music makes the romantic video highly engaging.
Chat ›



"The Best thing in Life to hold onto
is Each Other"
This simple and elegant invitation video works great not just as a wedding invitation, but can also be customised for Sagan, Reception and Engagement ceremonies.
The video gracefully introduces the bride and groom while the photos, dates and venue details are revealed in the most romantic appearance ever.
The text and photos are all customisable.
The effectiveness of this clean and modest video lies in the emotion and placement of your photos. Notice carefully the part in the video where thousands of petals reveal a photo in the heart. Here, try to use a high resolution photo of the bride & groom conveying an emotion rather than posing a selfie. And the other photos must take the story forward.
Simply upload all the photos or video clips you wish to include and we will get in touch with you for placement options.
Let your personality shine through
Have it the way you want.
This soft video template offers great scope for customisation:
Use more than 5 photos or video clips
Request a different Background music
Suggest fonts, style and text size
Functions/Events can be Added or Removed
Easily order this Dynamic and Elegant Wedding Video Invite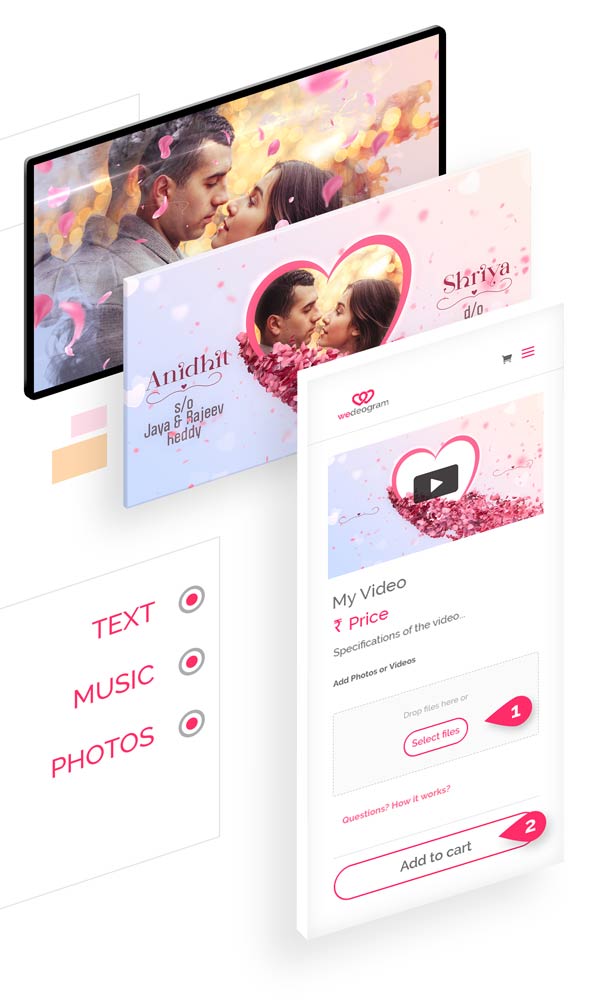 Customise the video with minimal effort by sending the details to your favourite wedding invitation video maker.
Click the START NOW button (above) to add text and photos.
Fill up the Form for this video in 3 simple Steps
Add Names
Add the Date, Time and Venue for the Wedding.
Upload Photos

 

or videos
Once done, simply make payment and checkout.
We will create your personalised video, deliver it to you in email and whatsApp.
As this video offers greater scope for customisation you may get in touch with us while placing order or simply request a call-back.
Universal and Loveable Theme suitable for all Functions.
Engagement
Save The Date
Cocktails
Parties
This Generic yet Beautiful theme can be used by both, the Bride & Groom, as it does not dictates- who's inviting?